------ ANIMATRONICS ------

The Dalton Effects Group can provide any animated effect that you have the need for, whether it be for convention displays, theme park attractions, haunted houses, movies or lasergame arenas. We specialize in a variety of animated creatures (computer controlled, remote controlled, manual cable controlled, motorized [direct-drive, push rods, cable controlled, cam and lobe]). We can also create custom effects exclusive to your business only, to add to your catalog.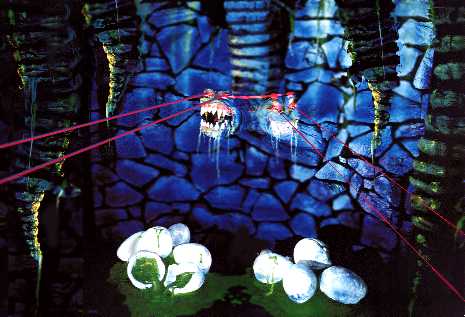 MARILYN...

THE STORY BEHIND THE LEDGEND: This is Marilyn Monster, who has almost instantly evolved to his current state, having mutated from a spillage of bio-chemical liquids mixed with genetic waste. He was built for the lasergame industry but a monster such as this could apply to other things as well. He is part-worm and part-human (of the future), therefore you'll find him around the spaceship's computer areas, where he feels most at home because of his inherent intellect. He acts very mean, snapping and biting at people as they walk by, yet he isn't all that threatening. He is just guarding the computer like a watch-worm, seemingly upset and confused about his origin because of the massively incompatable genes that have somehow managed to survive.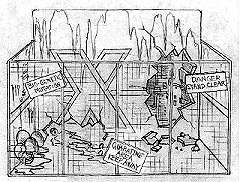 Marilyn, designed and built by David Dalton for Intersphere Lasergame Systems, started as a rough sketch, then progressed from it's first generation as a motorized monster, into a computerized- pneumatically controlled- life-like creature. At first, most of Intersphere's effects were only motorized, but later, with the assistance of Tom Bowersox
and Steve Quest (Electrical Engineer) of AVR Technologies, they were changed into computer-controlled animatronics, which progressed from there to become the highest-tech effect on the market today.

This completely programmable space-worm has 16 independent functions, as well as blowing smoke and glowing red eyes with lasers. Upon detecting the presence of a player, the monster bursts through the wall, snapping and biting at them from inside the protective quarantine cage. This is 'by far' the single most impressive interactive effect in the lasergame industry. The entire set, appearing to have been slimed by the monster, includes lighted circuit panels, a clutch of partially hatched eggs seeping of florescent green ooze, a small Cybercore Reactor and a huge florescent red 'X' painted on the wall where he breaks through. To get the most of this monster he needs to be in his computer lair (as shown in sketches), however, he has been sold as a stand alone effect as well (see photo at top of page).

The Dalton Effects Group sells a variety of monsters and effects, most of which are more basic and less expensive. However, depending on your budget, we will cater to each customer on an individual basis, offering stock items or will build custom pieces to fit certain needs, just like Marilyn Monster was created exclusively for INTERSPHERE.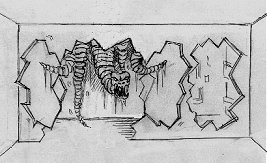 *To request more information on ordering a Marilyn Monster CLICK HERE
If the gif animations below aren't enough, although it may take a while to download, you can get the AVI file for this effect by clicking HERE!




BRING THE WORLD TO LIFE WITH
--- COMPUTER-CONTROLLED ANIMATRONICS ---




---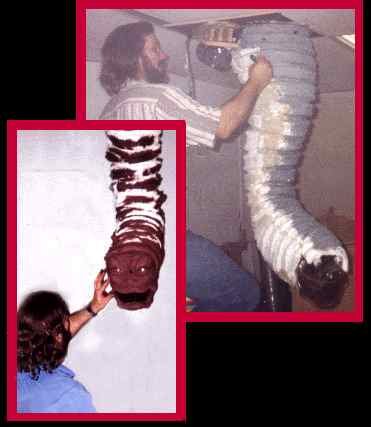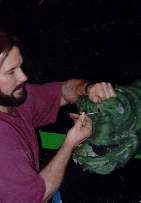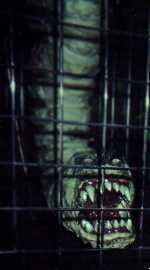 ---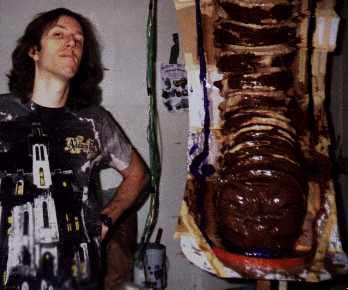 Steve Quest, a major contributor to the creation of Intersphere, stands by the beginning stages of Marilyn's fiberglass mold. Steve is the electrical engineer who designed and built all of Intersphere's electrical effects. He also built the computer to animate Marilyn Monster out of an old Atari game computer back when Intersphere first moved into computerized animatronics. We have grown a great deal since then, now using more advanced computer systems, some of which are designed and created by Steve, who has also designed various lighting and electronic effects as well. Steve Quest can build literally any type of control-circuit that you could possibly think of.
---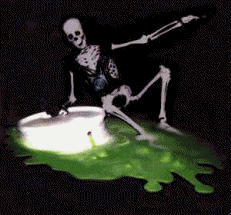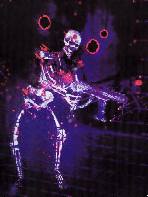 Dalton Effects Group has developed a variety of animated effects, like these computer-controlled pneumatic skeletons, which raise up and shoot at players in the area. Other effects such as these, that were originally created for David's haunted houses, were easily adapted for lasergame arenas. The lasergame industry closely resembles the haunted house industry because of the excitement, the maze-like arenas, the fog machines, sound effects and blacklighting. Therefore Dalton, the major motivator in the latest lasergame standards, was in his perfect element when he adapted this effect for Intersphere. Dalton Effects Group can provide similar animated skeletons, monsters or any other pneumatically-controlled characters to work with any application imaginable.
---
ANIMATED DINOSAURS

Another creation by the Dalton Effects Group (in association with Guillaume's Set Design

) was this T-Rex for the Las Vegas Museum of Natural History. Motors were used in place of the sometimes 'too-loud-for-museums' pneumatics. *This dinosaur had twelve different functions.

*Eye lids open/close, eyes back-and-forth, snarl, mouth open/close, head back-and-forth, claw extend out (2), claws up and down individually (2), claws up-and-down together, tail back-and-forth, audio growl synched to mouth open/close, motion detector set so that it only moves while people are in the area.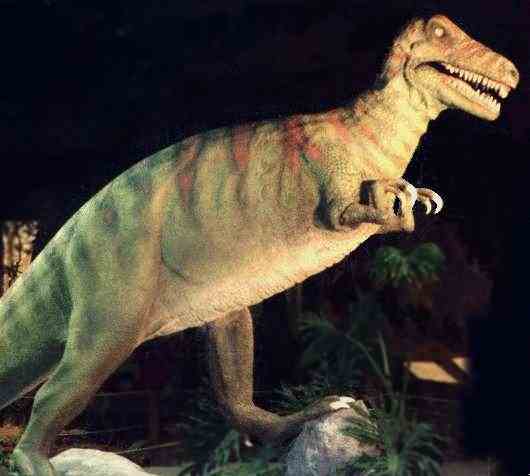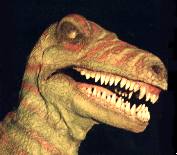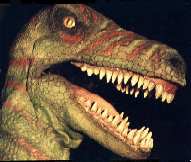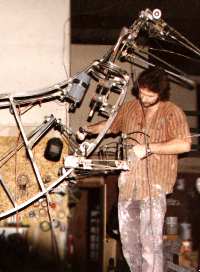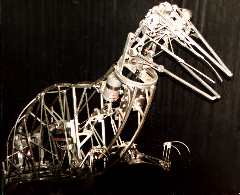 ---
Dalton Effects Group has created many animated effects, having produced ten of the world's scariest HAUNTED HOUSES. We recommend you check out...
The HOUSE OF TERROR.
Many other animated effects will be shown in the future, so please hit the go back button and bookmark this site, so you can check back on our periodical updates.
TO NEXT SECTION